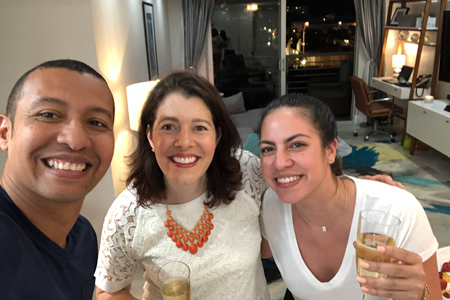 We bought our condo, knowing it needed a gut remodel. I was terrified at the prospect of finding a good contractor in the Miami area, as I heard so many horror stories from people over the years. Someone who personally went through a remodel referred Rafael from Create Group to me. From the moment I met Rafael, I knew he was the right and only choice for us. I've never been through something as major as a full remodel of a condo, but from day one, they steered us in the right direction. My fears about the magnitude of what we were doing seemed to disappear, because we had the right guidance. They were realistic and truthful about the budget we needed, where we needed to spend the most money and where we could save money, without skimping on the quality of the outcome. Rafael and his team put together the most detailed budget and project plans I've ever seen. Every aspect was covered and we had our approved permits from Miami Beach in record time, only six days after being submitted, and there was even a holiday in the middle of all that!
We were out of town for several months of the remodel, but I had absolutely no reservations about being gone, as we were in the best of hands. Melissa, our project manager, was on top of every single detail. We spoke at least once per day. If there was a question that needed answering right away, either Rafael or Melissa would text me, knowing I was likely in a meeting at work, and could not respond to a phone call. There were several times when they would FaceTime me to show me the progress, or ask my opinion on something, such as the width of the grout lines in the tile floor.
I've worked with many contractors before, but a lot of them have a hard time going from the concept of a drawing or idea, and thinking it through into how you're going to use the space. Rafael is triple-qualified, in that he's a licensed contractor, architect and interior designer. Melissa is also very well versed in all areas, and is getting her Masters Degree in interior design. They think of everything, from the placement of outlets and light switches, how air is flowing to keep rooms comfortable, to where lights should go overhead in rooms.
I can't explain how nice it is to have a team you can completely trust to do the right thing when you're not around. I never once worried about how our remodel was going. They cared as much about our place as they would their own. If something wasn't done to their satisfaction by a sub-contractor, they would have it redone immediately. Every week, either Rafael or Melissa would send us a PowerPoint time lapse of our remodel progress. It was the highlight of my week, since I was over 1,000 miles away. They would take pictures throughout the week of all the projects to show the before and after from Monday through Friday. I'd never heard of anyone doing this before, and no one I know has ever heard of any contractor going the extra mile like this.
At the end of this project, which took about a year, from first meeting Rafael, going through budgeting and planning, permitting, demolition, the complete overhaul of our condo (with hurricane Irma thrown in for good measure), and all the final inspections to close out our permits, we had a wonderful new home. Not to mention, great friends for life with Rafael and Melissa.
This could have been one of the most stressful things I've ever experienced in my life, and it turned out to be one of the most rewarding. The pictures from our remodel show how great our place turned out. But they don't tell the story of how we got there, which is just as, if not more important. When and if we ever buy another place in the Miami area, the first people I will call will be Rafael and Melissa from Create Group. You simply cannot find more caring, qualified, trustworthy people to work on your home or business.
- Laura DeGraff